click the logo to return to the HOME page

William Holland
NEW ADDRESS. SAME PHONE & EMAIL
3642 Savannah Hwy, Suite 116, #207
Johns Island, SC 29455
(this address is for mail & parcels only)
Tel: 1.610.470.5925
e-mail: bill@hollandarts.com
MAXFIELD PARRISH
UPDATED 17 Oct 2021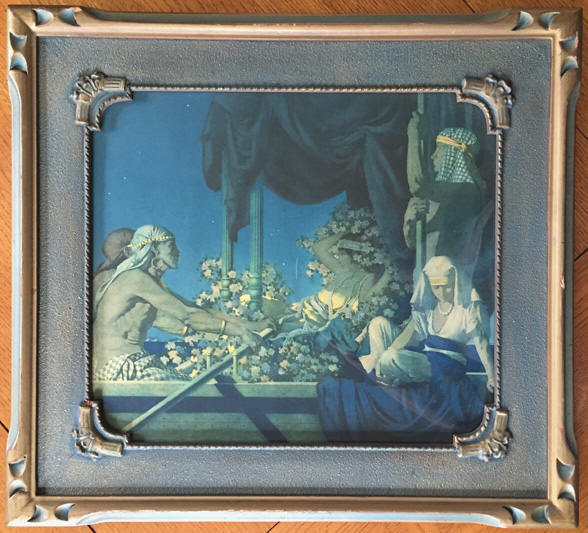 ---
Why should I buy from hollandarts.com?
Here is MY guarantee: "I guarantee the authenticity, age, and condition of everything that I sell. If you are unhappy for any reason,
return the item in its original condition for a full refund, minus shipping costs. CLICK HERE for time limits and details."
********
This is my CURRENT Maxfield Parrish INVENTORY

page numbers are from The Collectible Maxfield Parrish
I sell NO reproductions or later copies of Parrish's works.
Sizes are not always exact in the listings
ART PRINTS, Brown & Bigelow & EDISON-MAZDA CALENDARS
Original Frames, unless noted
Some photos have reflections or spots from bulb glare.
T

YPE OF GRAPHIC/TITLE

% OF COLOR REMAINS*

IMAGE

SIZE

[not the frame size]

Price

COMMENTS/CONDITION
The Pied Piper-1909


92%

6 3/4 x 21"

EMAIL FOR PRICE
Original frame, Unopened back. Bright colors. One stain on the mat at left as shown. Easily rematted without damaging the artwork. Dark spot at the bottom is a reflection.
Wynken, Blyken & Nod-1905

95%
11x16"
EMAIL FOR PRICE

Gr

eat color. Appears to be original frame. REFLECTION SHADOW AT TLEFT NEAR BOTTOM OF PICTURE
Sugar Plum Tree-1905

98%
11x16"
EMAIL FOR PRICE

G

reat color, full borders showing title and children's feet at bottom. Frame wear and touch-up as shown. Two small touch-ups at top. REFLECTION SHADOW AT TOP CENTER OF PICTURE

Valley of Enchantment

-1946

90%
11x14"

SOLD

original frame.

Lute Players

-small size

90%
10x6"
$95
print and frame in EX condition. original frame and unopened back with title
Gorge of Colorado

90%
16.5x20"
$400
original frame, paint flaking on frame as shown

Golden Hours-1929-small cropped top
98%
6.5x9"

SOLD

original frame and unopened back

Typical Shipping & Insurance Rates:

Framed Parrish artwork: $20-75, depending on the size and your location

Old King Cole

85%
25x6.5"
$550
original frame and backing.
The Mill Pond-1948

90%
8x10.5" [image only]
$130
original mat and frame. very minor specks inside glass.
PLEASE EXCUSE THE FUGITIVE REFLECTIONS FROM PHOTOGRAPHING THRU THE GLASS period frame. bright colors.

Reveries

-

1927 small cropped Edison-Mazda calendar top

98%
6.5x10"
$95
bright colors and colorful trim on the original frame
Early Autumn-1939

90%
13x16.5"
$125
original frame. wear to very thin frame. small paper loss to upper left border at backing nail as shown.
Thy Templed Hills-1942 executive print tipped onto original mat

92%
8x11'
$95
original frame. title and Maxfield Parrish facsimile signature on original mat below, tipped on print. highly visible on the margin, bareley visible in this photo.

PLEASE EXCUSE THE FUGITIVE REFLECTION ON THE BOTTOM

Peaceful Night-1953-executive print, winter scene

98%
8x10.5"
$90
original frame. print is tipped onto original light robin's egg blue mat with "Peaceful Night by Maxfield Parrish," in silver ink at bottom and silver decoration around image. accompanying gift card and "Story of the picture," included on back of frame.

PLEASE EXCUSE THE FUGITIVE REFLECTION FROM PHOTOGRAPHING THRU THE GLASS

Collier's Magazine cover-Nov 17, 1906

88%
9.5x14"
$45
period frame, older mat.
Aladdin-1906

100%
9x11"
$65
in period frame
C

assim

-1906

95%
9x11"
$65
in period frame
REFERENCE BOOKS
PAGE
TYPE OF GRAPHIC/TITLE
SIZE
% COLOR*
PRICE
COMMENTS/CONDITION
Collectible Maxfield Parrish
8x11
$

6

0
postpaid
800 pictures, 600 in color

. new.

Coy Ludwig Book-OLD PRINTING
8x11
$20
postpaid
OUT OF PRINT. used.
* PERCENT COLOR is the amount of original color remaining on the print
after years of exposure to sunlight. Others use letters to grade the item. Here is a translation: 90-100%=A-A+,
85-89%=B, 80-84%=C, 75-79%=D. Below 79%, you don't want it unless it is really rare. IF IT IS MARKED 95-100%, IT REALLY IS! RETURN IT, IF NOT.
ORIGINAL BACKING means the cardboard behind the artwork is that which was installed when it was originally framed. It may or may not have the protective kraft paper still in place.




Solid Bronze Art Nouveau Numbers. 4" tall. $18 each, 3 for $50, plus shipping.


---
Typical Shipping & Insurance Rates:
Framed Parrish artwork: $20-75, depending on the size and your location

Desk Pieces: $25/order: Ground rate.
Unframed Icart Etchings: FREE. Ground rate.
Framed Icart Etchings: TBD.
Framed or unframed Erotica: $15/order
Repro Prints: FREE: 1st Class Mail
Lamps, Glass or Other Framed Pieces: TBD
Books: FREE: USPS Media Mail
Email for rates, if you desire faster delivery

CLICK below to visit my other web pages


Louis Icart Etchings: Over 230 scanned pictures
~~~


Maxfield Parrish: Art Prints, Calendars & more
~~~


Tiffany Desk Sets: Inkwells, frames, etc.
~~~~


Tiffany Lamps & Glass:Genuine & Guaranteed
~~~~


Icart Erotic Etchings: over 120 scanned pictures
~~~~


Boudoir Art: by other deco artists
~~~~


Icart Repro Prints: $15 and up

RETURN to Home Page