click logo to return to HOME page
This page is always current. It doesn't need updating
~
My new book
Tiffany Desk Sets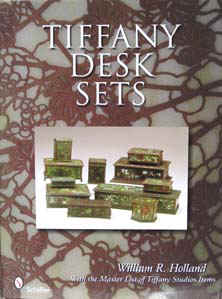 Tiffany Desk Sets retail is $89.95. Your price is $75 postpaid in the U.S.A.
To order your "signed by the author" copy
please send your check for $75, PayPal to my email address or call with CC info
The book will ship IMMEDIATELY, by USPS media mail.
Delivery in 3-10 days. Email for foreign shipping.
BOOK DETAILS:
280 pages with over 630 color pictures covering all 24 desk set patterns

Non-pictured items are identified and listed by desk set pattern and Tiffany item number

Large format: 9 x 12" hardbound book on heavy paper

Rarity guide for all known desk set pieces in all 24 patterns

Tiffany Master List of over 1900 items made by Tiffany Studios and 200 items made by Tiffany Furnaces

Information on patina, types of glass used, signatures, early copies and examples from competing companies

Free online additions and corrections
~
Additions and corrections are accessible for free at:
DeskSetBookUpdates
~~~~~~~~~~~~~~~~~~~~~~~~~~~~~~~~~~~~~~~~~~~~~

Reference Books by William Holland & other authors
Send your check payable to hollandarts for immediate shipment.
Shipping is included on books shipped to addresses in the USA.
Please add 9% sales tax to shipments to SC.
Email for foreign shipping costs.

IMPORTANT: I do NOT have an automated confirmation response to your order.
I will send you an email, usually within 48 hours acknowledging your order.
Check my homepage for show or vacation schedule which may delay your order.
.
Hollandarts.com
3642 Savannah Hwy
Suite 116, #207
Johns Island, SC 29455
(this address is for mail & parcels only)


Louis Icart: The Complete Etchings
over 550 etchings pictured in color, now 280 pages.

This is the latest--5th Edition. 16 pages added, 48 new pictures, New chapter on Icart oil paintings
Hardcover

Retail is $80. Your total price $75 postpaid in the U.S.A.
For Details of the book's contents, click HERE



The Collectible Maxfield Parrish
800 pictures, 600 in color, 205 pages. Your total price $60 postpaid in the U.S.A.
Hardcover



Louis Icart: Erotica
The first book on this aspect of Icart's career features 287 of Icart's naughty little etchings pictured in color and titled for easy identification. Your total price $50 postpaid in the U.S.A.
Hardcover

An original OUT-OF-PRINT exhibition catalog from 1987.
170 quality full color pictures.
Heavy stock paper.
157 pages.
The text is in English and Japanese even as the exhibit was in Japan.
Pictured are etchings, pastels, oils, erotica, personal photos and even menu covers, all done by Icart. A very informative text on Icart, his home and his wife, as the exhibit was an introduction of the artist and his works to the Japanese people. EX condition, unused. Your total price $60 postpaid in the U.S.A.
Softcover.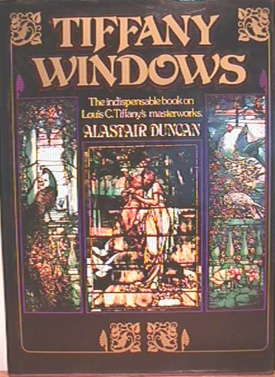 The only book on Tiffany Windows. OUT-OF-PRINT. It contains pictures of over 200 windows, more than half in full-color. 224 Pages, hardbound. $50 postpaid in the USA. VG+ condition with dust jacket.