click logo to return to HOME page

William Holland
NEW ADDRESS. SAME PHONE & EMAIL.
3642 Savannah Hwy, Suite 116, #207
Johns Island, SC 29455
(this address is for mail & parcels only)
Tel 610-470-5925
email: bill@hollandarts.com

UPDATED 01 Oct 2019
TIFFANY DESKS PIECES
IN THE Pine Needle PATTERN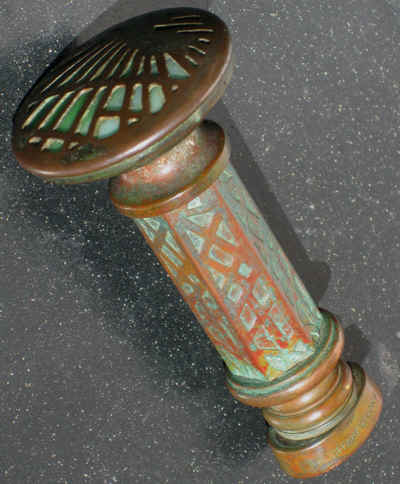 Monogram seal [later, without beaded decoration]


Tiffany Studios PINE NEEDLE PATTERN--DARK PATINA-GREEN GLASS

3x2x4.25"
double playing card case

reddish highlights in the patina

SOLD

5x2"
ORIGINAL celluloid insert for Tiffany Pine Needle and Grapevine LARGE parcel scales



Left picture fits the Parcel scale. Right picture is shown for size comparison

NOT REPRO. The Parcel scale was produced only in Pine Needle and Grapevine patterns. Minor wear as shown.
$225
2.5x1"
ORIGINAL celluloid insert for most Tiffany postal scales

THIS ONE: Minor wear and dirt as shown. The piece missing under "patented" will be hidden by the bottom metal channel of the scale.

NOT REPRO-REMOVED FROM DAMAGED SCALES
$80 for this one. Others available $80-$125
9.5x7x3.5"
large jewel box



all original with 2 trays and velvet lid liner. dedication: Sarita April 21st 1905, in fine script, visible in the picture.
$2150
6.75x4x3.25"
deep cigarette box

nice patina. an early model box with no provision for a wooden liner
$1195
4.5x3.5x1.5"
paperweight calendar

with original calendar inserts. some wear and smudges on the paper
$550.
various sizes
perpetual calendar pages

complete sets-ALL ORIGINAL

CLICK HERE FOR INDIVIDUAL LIST

3.75x8.75"

thermometer-I HAVE TWO FOR SALE


TWO to choose from. TOP is in early filigree. the open spots are not missing filigree. this is one early design. original tube reads a few degrees high. BOTTOM is more traditional patina. original tube reads a few degrees off. monogrammed

LADY KATE

$1250 each
3.5x7"
spindle (bill file)

.
$550
19"
long blotter ends

minor wear at edges.
$150.
7"
pen


minor wear to patina as shown

$525

2.25x3"
mucilage pot with brush in lid

early design
$750.
.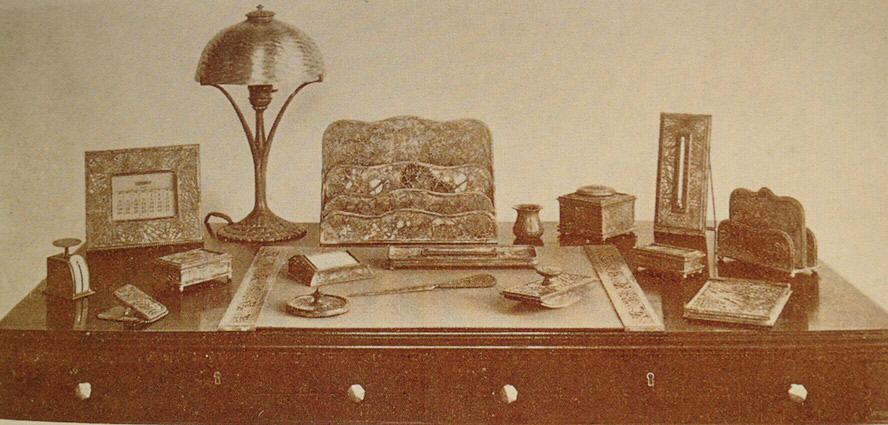 c1915 Tiffany Studios advertisement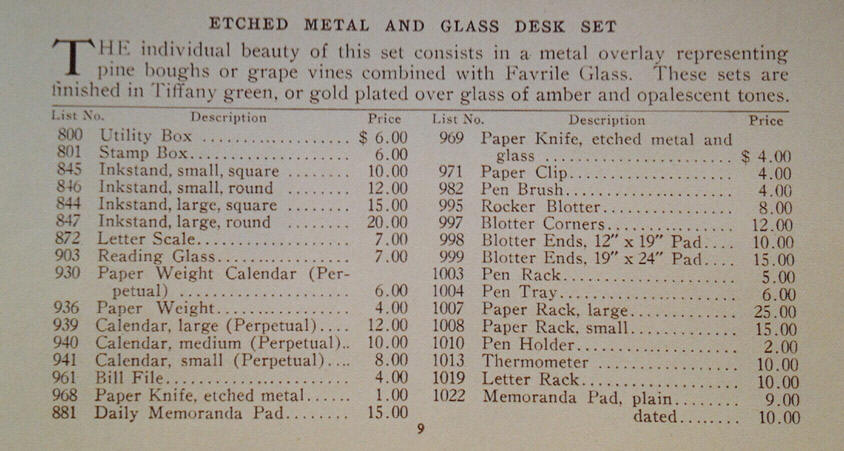 CLICK below to visit my other web pages 
 Louis Icart Etchings-- Over 200 scanned pictures
 Maxfield Parrish-- Art Prints, Calendars & More
 Tiffany Desk Items-- Inkwells, letter racks, frames, etc.
 Tiffany Lamps & Art Glass-- GENUINE & Guaranteed
 Icart Erotic Etchings-- Over 100 scanned pictures
 Boudoir Art-- by other Deco artists


RETURN to Home Page