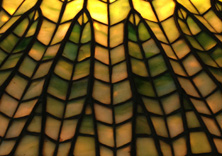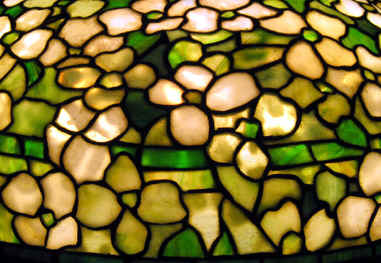 NEW ACQUISITIONS & ADDITION LAMP PICTURES


RETURN TO THE TIFFANY LAMPS PAGE
FOR SALE BELOW:
Double student lamp with 2 matching 10" Tiffany shades
20" dichroic Acorn lamp on mint Library base
1-Lily shade with tight hairline

This is a special PREVIEW page for select clients. These items are not listed on my regular webpage yet.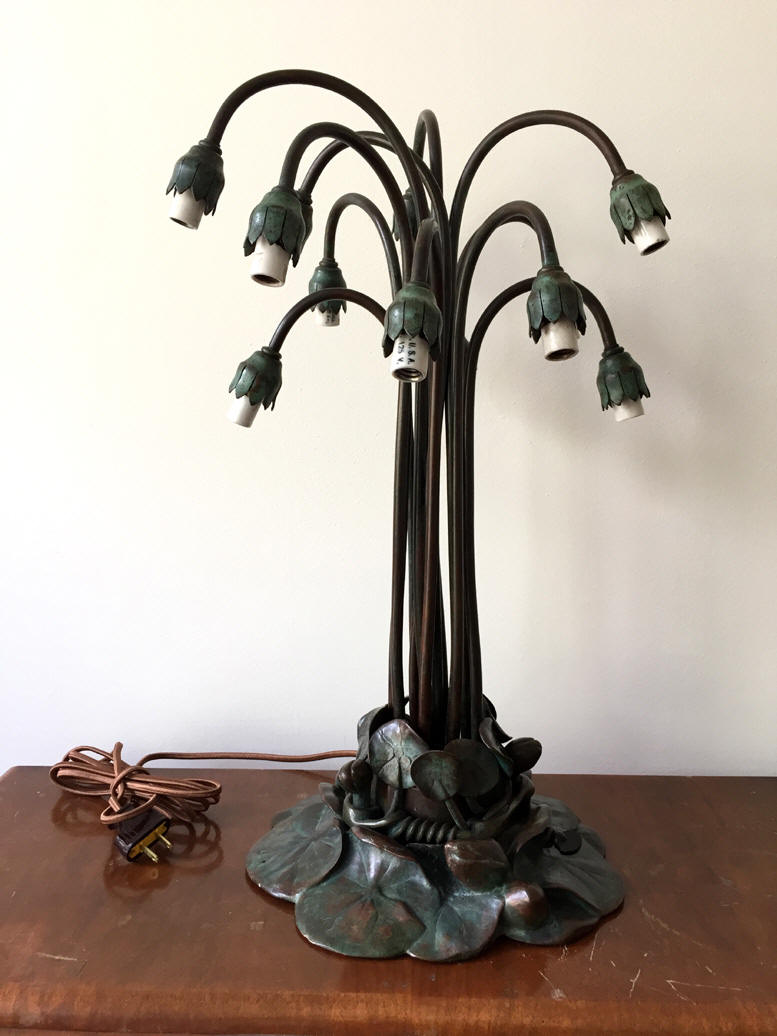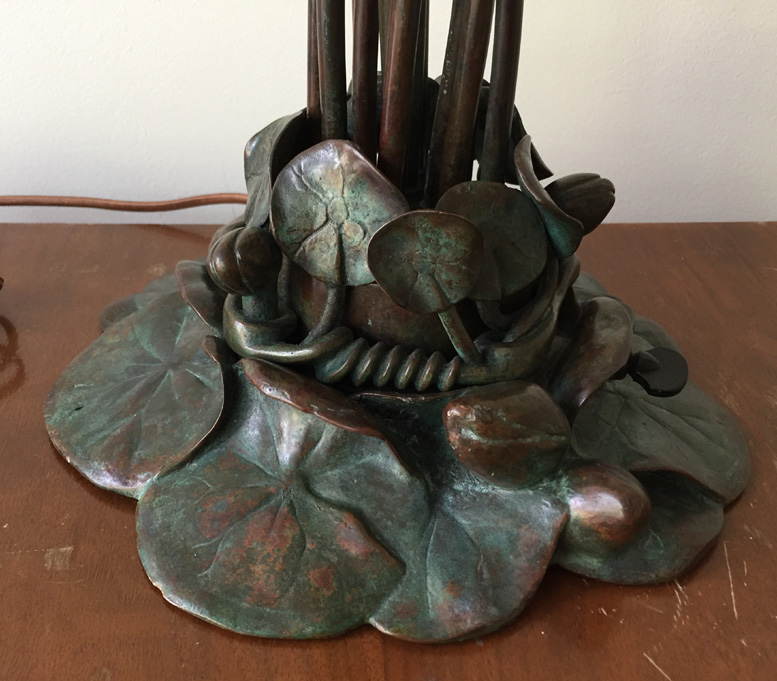 Super patina on the base. Original switch and sockets.
~~~~~~~~~~~~~~~~~~~~~~~~~~~~~~~~~~~~~~~~~~~~~~~~~~~~~~~~~~~~~~~~~~~~~~~~~~~~~~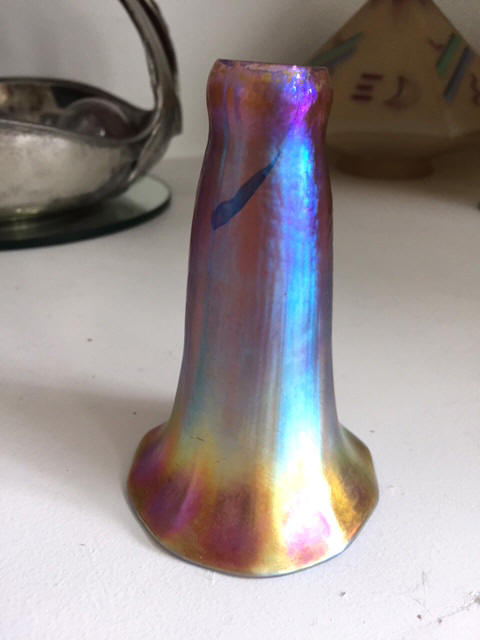 Tiffany Lily shade showing tight hairline on one side. Great blue/purple/silver/gold iridescence.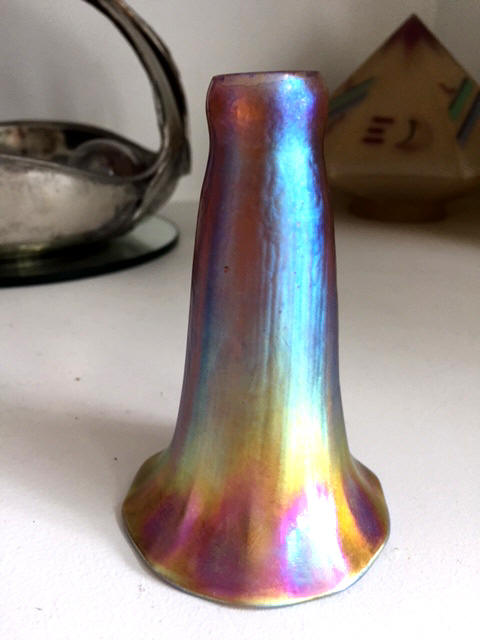 The shade looks perfect on the other side. $495
~~~~~~~~~~~~~~~~~~~~~~~~~~~~~~~~~~~~~~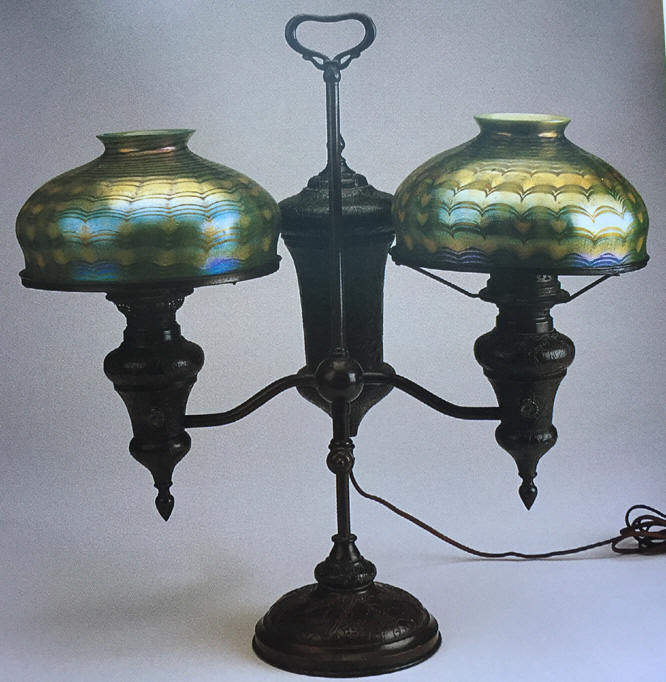 Picture of the lamp from my Desk Set Book.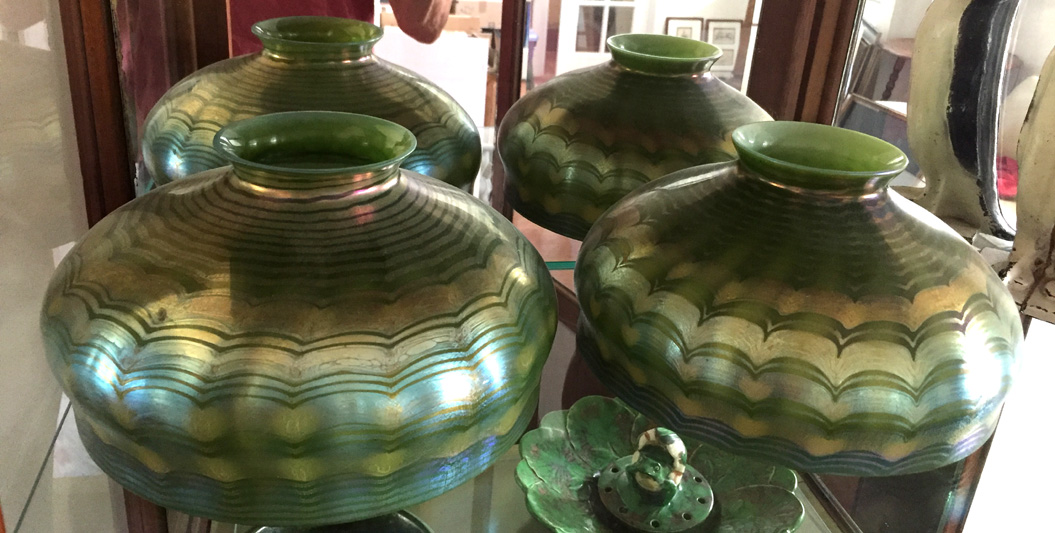 TWO closely matching signed Tiffany 10" shades. These were made for bases with arms or 10" rings to hold them, like the student lamp base below. The opening is not a standard fitter size. They cannot be mounted by the top fitter to any Tiffany base. I bought the student lamp as a unit and have had it in my collection since 2001. The lamp is pictured in my Tiffany Desk Sets book as figure 3-61, and on the dust jacket, in situ in my house.

The two-arm student lamp base is unmarked. When I bought the lamp I assumed it was a Tiffany Studios Grapevine pattern base. By 2008, when the desk set book was published, I had received other opinions on what company produced the base. The wording in the book still applies: "There is some disagreement whether this is a Tiffany or Riviere base. Information on the early Tiffany oil lamps is not complete and there is no reference to it in either company's literature."

The base has been professionally electrified and retains its original brown/green patina. EMAIL FOR PRICE on the complete lamp. POSSIBLY, the shades and base may be sold separately. Let me know if you are interested in either scenario.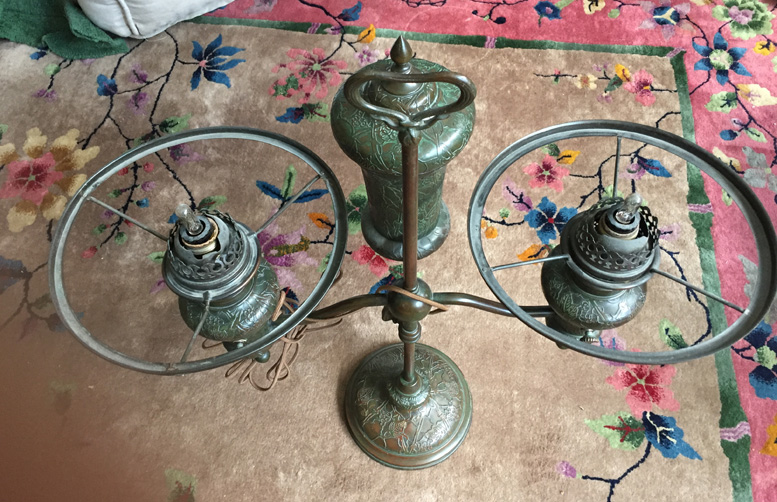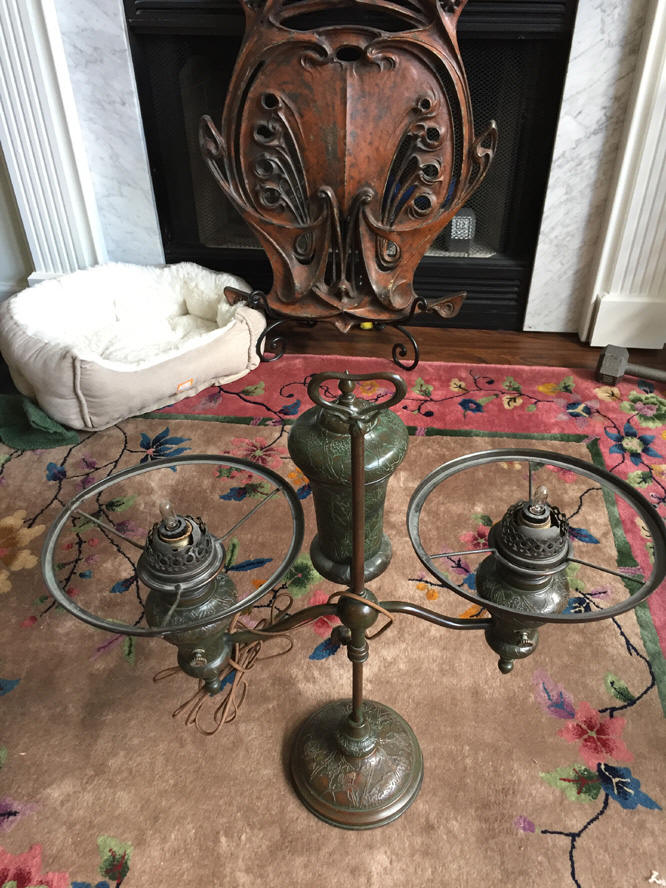 ~~~~~~~~~~~~~~~~~~~~~~~~~~~~~~~~~~~~~~~~~~~~~~~~~~~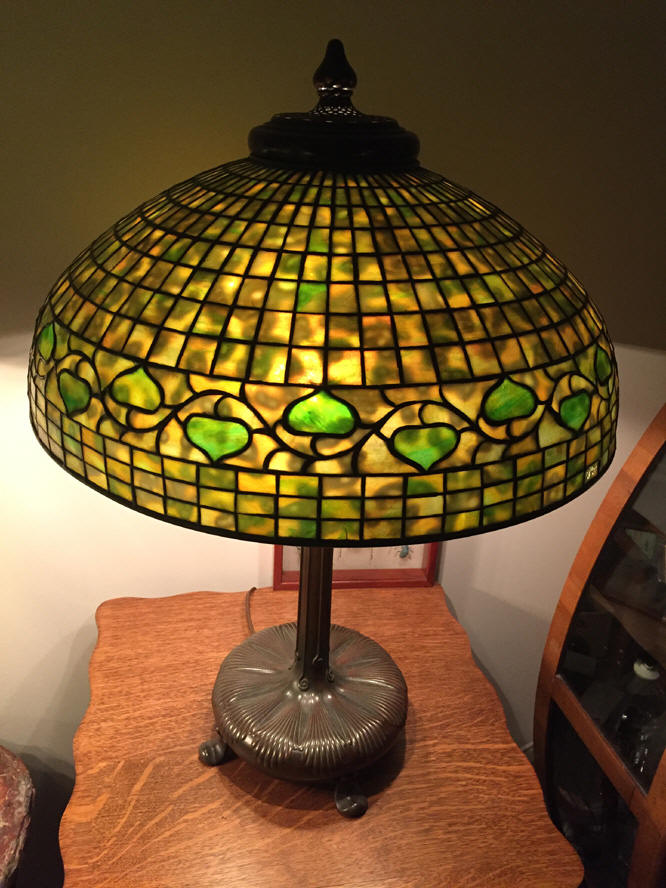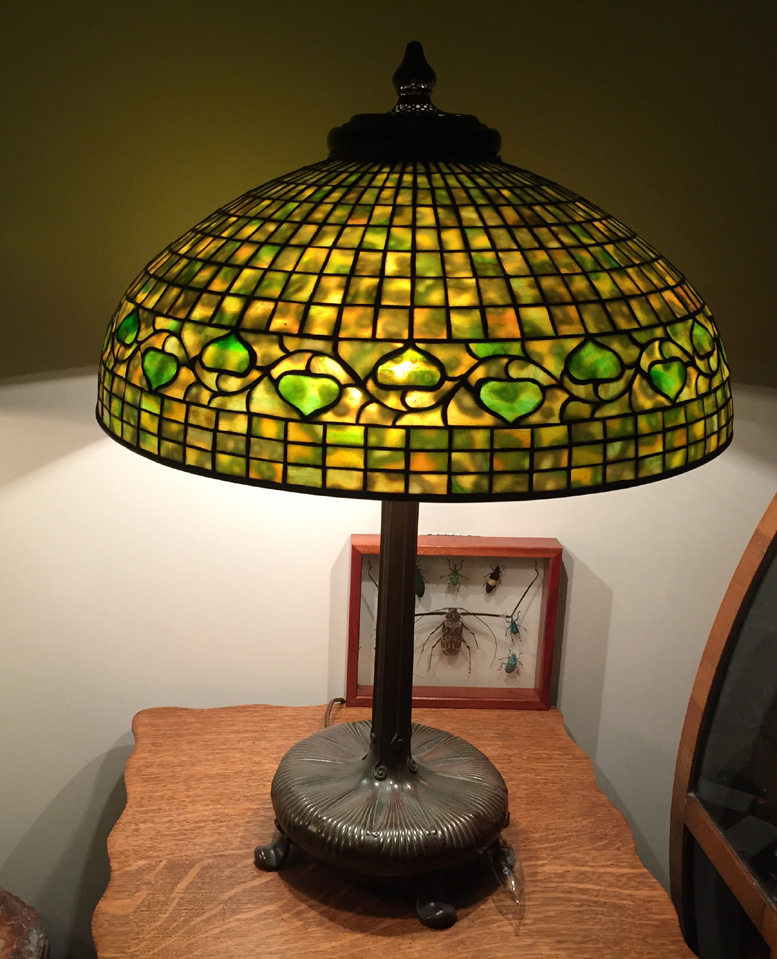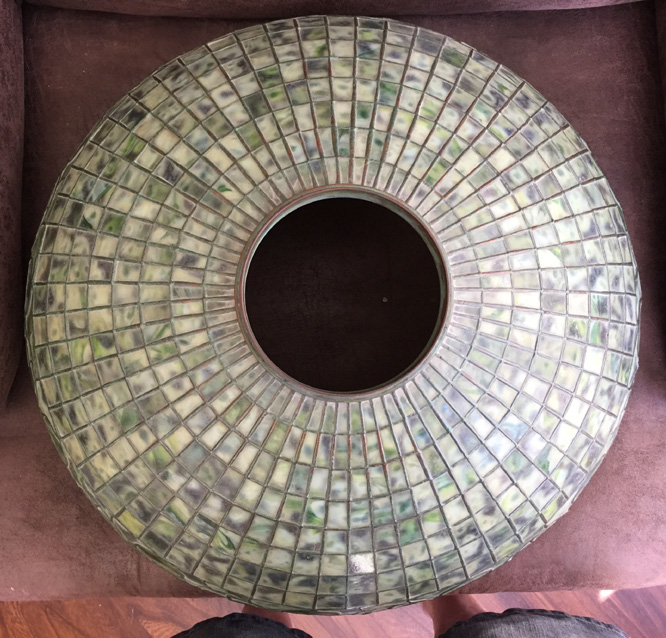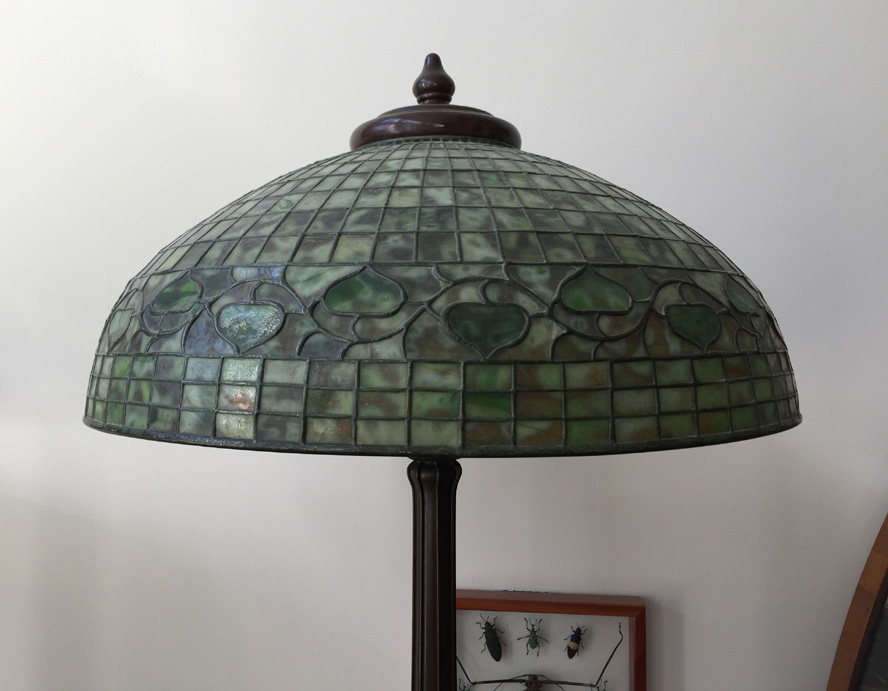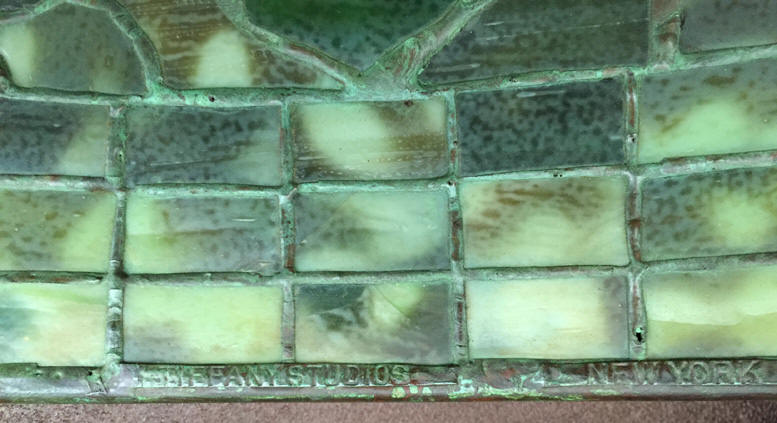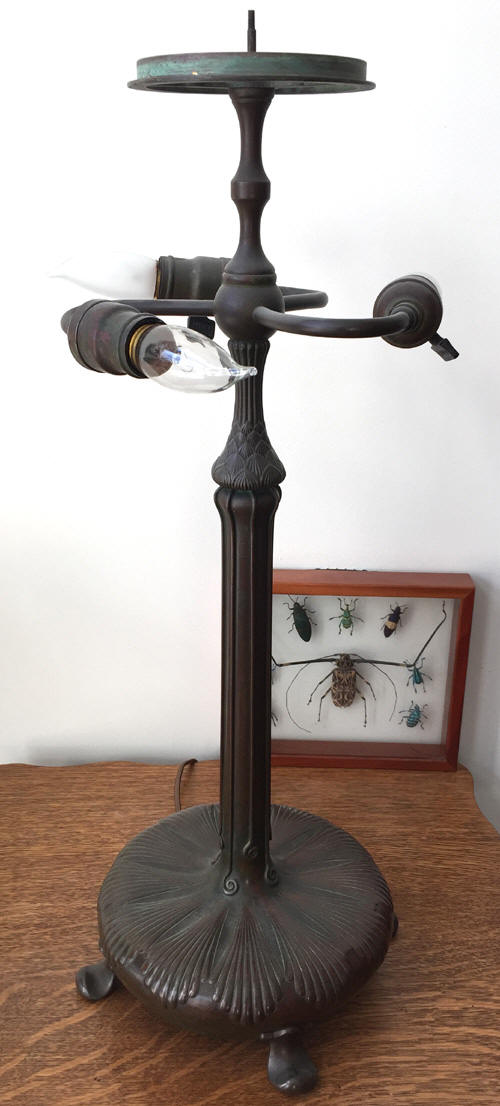 Tiffany Studios 20" dichroic Acorn shade on a nice Tiffany Studios Library base and with original heat cap. Note the remarkable change from unlit to lit. The base is 100% original everything except the cord. The glass in the shade is near mint with very few unnoticeable hairline. The shade has a slight warp when viewed at just the right angle. This is correctible, but hardly seems necessary to me. EMAIL FOR PRICE.

These Muller Freres sconces are available.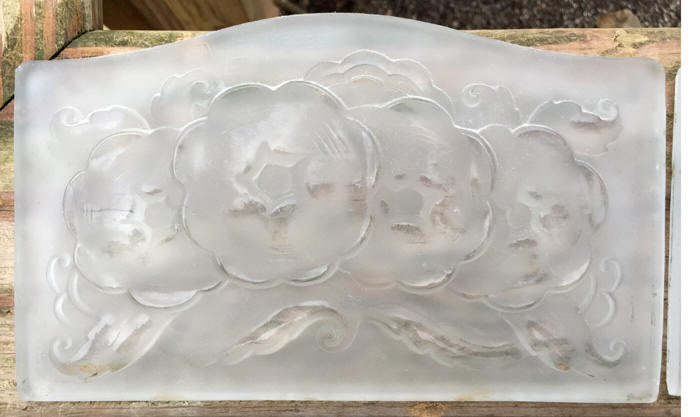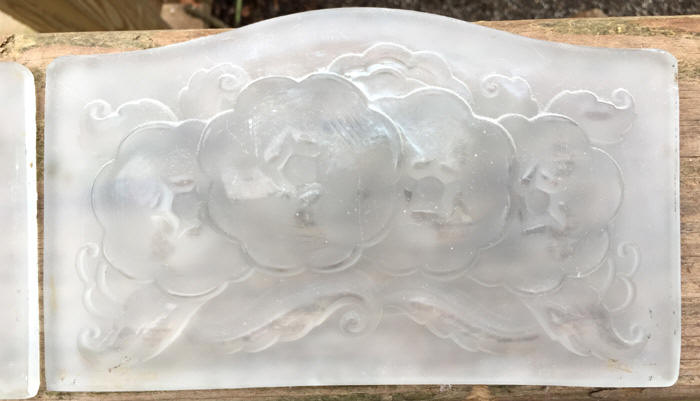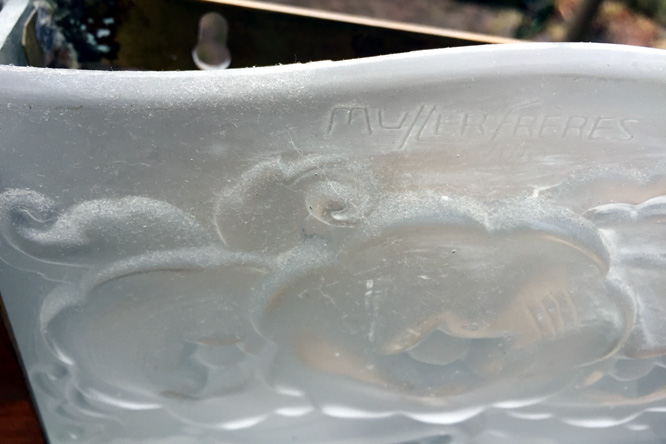 Muller Freres wall sconces, circa 1920. Heavy solid brass mounts with frosted glass sides and bottoms, original sockets and wiring. Identical matching pair of poppy flower front glasses that are signed in the glass, as shown. Excellent condition. No cracks or repairs. One tiny flake on the back side of one top inside glass--unseen. The glass has identical color, reflective properties and opacity. The unlit pictures show some shadowing that is misleading. This is a matching pair. Brass is unpolished. 9" wide, 2 3/4" deep, 5 1/2" tall. See website for updated price.
~~~~~~~~~~~~~~~~~~~~~~~~~~~~
BACK TO THE TIFFANY LAMPS PAGE
EVERYTHING BELOW HERE IS SOLD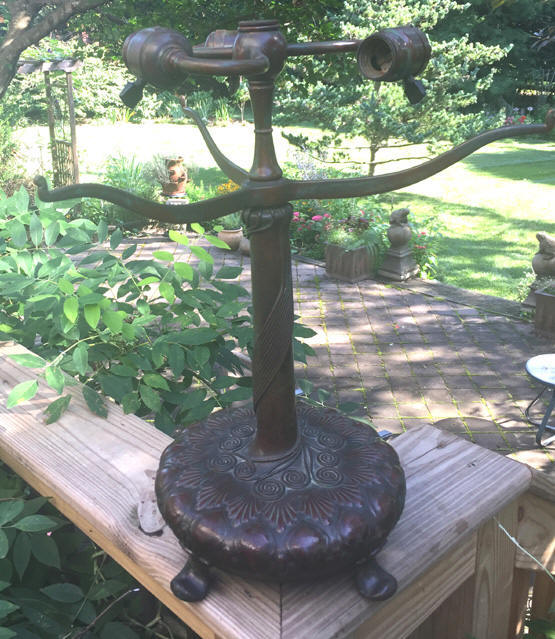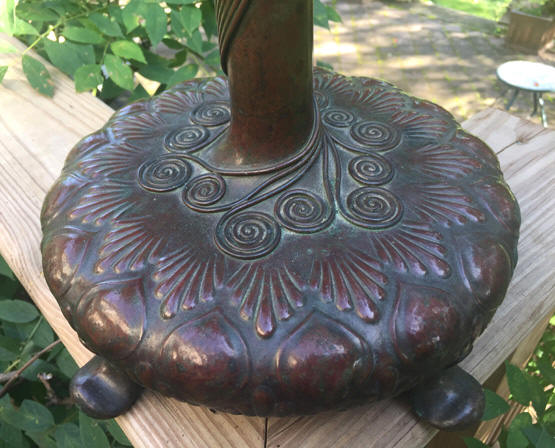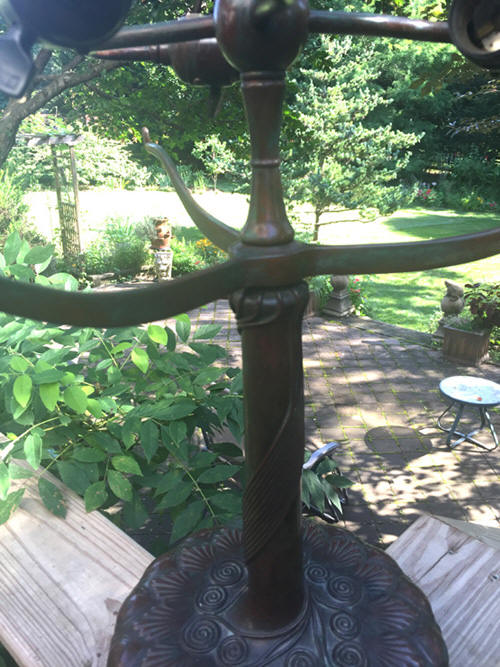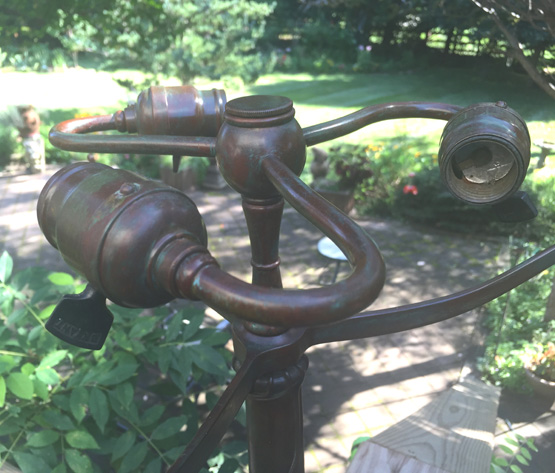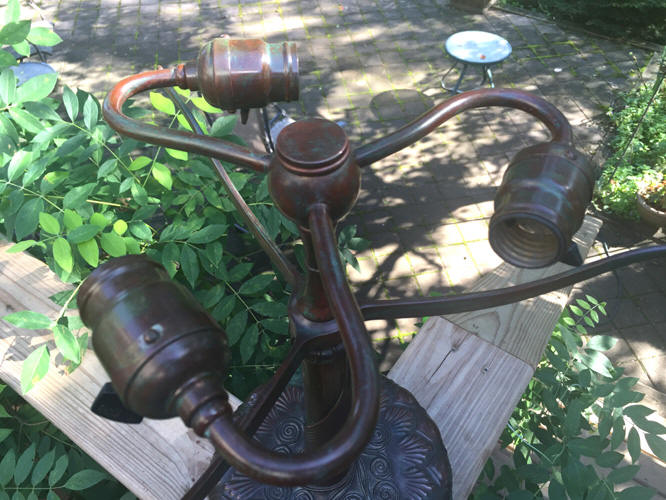 Tiffany Elaborate library base for 16" shade. original sockets. proper stamping with early 4 digit number. Later standardized catalog # is 360. SOLD

ALL 6 ARE SOLD
Six lily shades, number 1 through 6 from the left. Shades are sold individually. Enlargements below: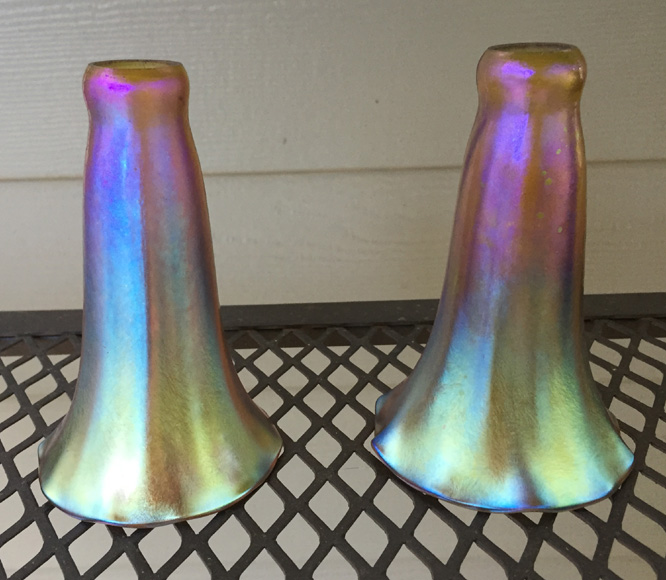 Shades #1 and #2 are both 4 7/8" tall. Nice blue and purple iridescence. Both are signed L.C.T. Favrile. A close match. #2 is a little more fluted on the bottom.
sold and paid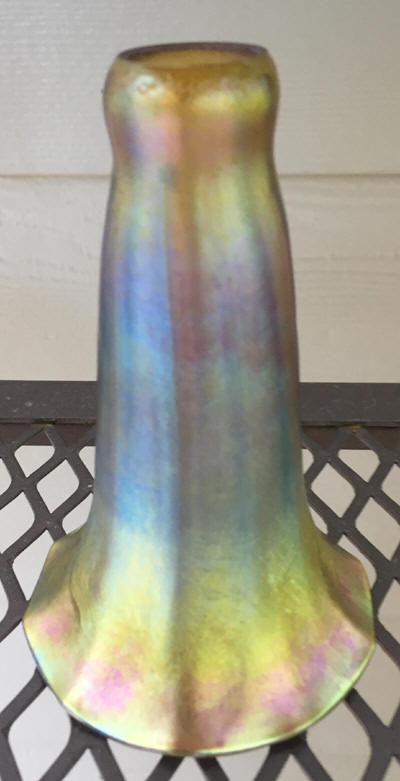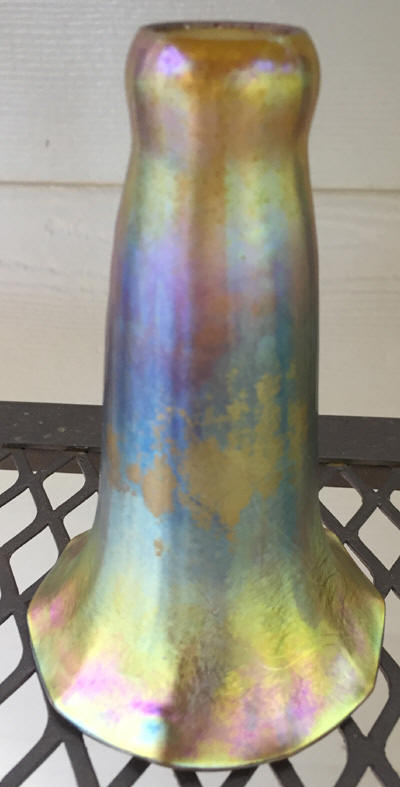 Shade #3 is 4 3/4" tall. Showing both sides. Signed L.C.T. Favrile. Nice blue iridescence.
sold and paid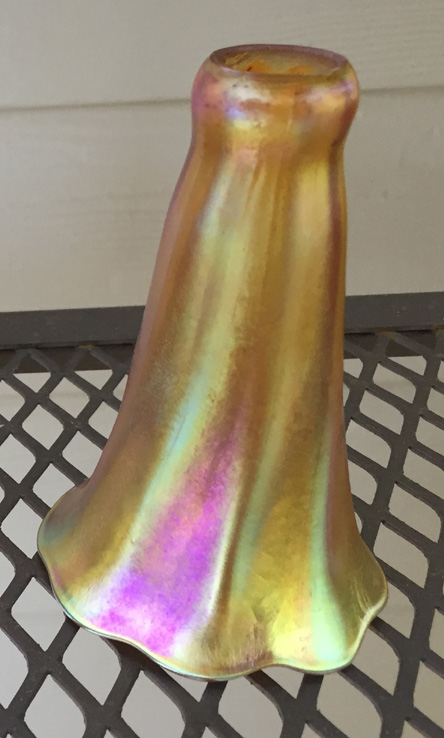 Shade #4 is 4 5/8" tall. Magenta iridescence comes and goes as you rotate the shade in reflected light. Signed L.C.T.
SOLD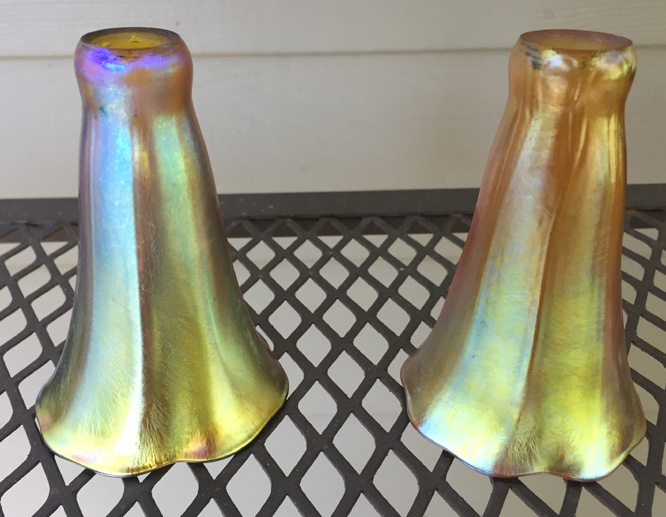 Shades #5 and #6 are 4 1/4" tall and a very close match. #5 and #6 are both signed L.C.T.
SOLD
~~~~~~~~~~~~~~~~~~~~~~~~~~~~~~~~~~~~~~~~~~~~~~~~~~~~~~~~~~~~
RETURN TO THE TIFFANY LAMPS PAGE