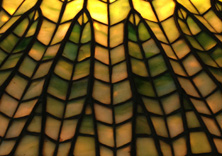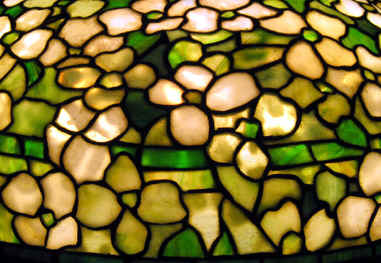 NEW ACQUISITIONS & ADDITION LAMP PICTURES


RETURN TO THE TIFFANY LAMPS PAGE
This is a special PREVIEW page for select clients. The items are not listed on my regular webpage yet.

I usually try to contact clients individually when I get an item on their wantlist, but because so many people are looking for lily shades to finish a set or replace a broken one it complicates that process. Each shade lists my best price, including shipping. This should save some time and disappointment as sometimes items sell during lengthy back and forth price negotiations with multiple clients. My regular return policy is in effect. "If you're not happy, send it back for a full refund." SEE DETAILS HERE


ALL 6 ARE SOLD
Six lily shades, number 1 through 6 from the left. Shades are sold individually. Enlargements below: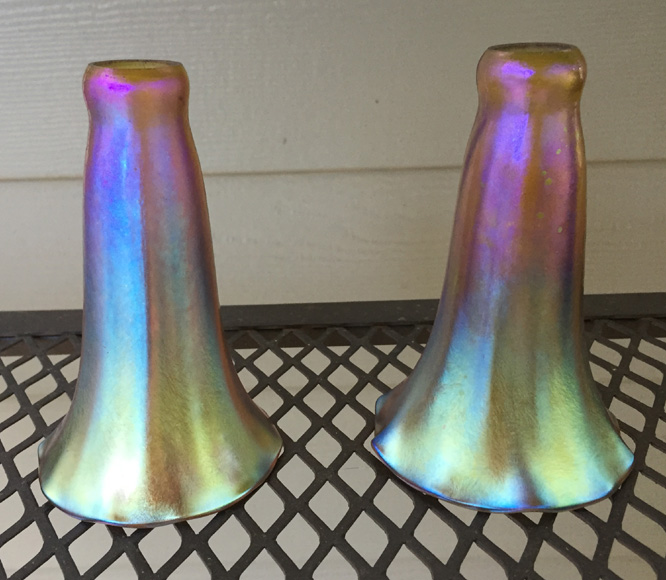 Shades #1 and #2 are both 4 7/8" tall. Nice blue and purple iridescence. Both are signed L.C.T. Favrile. A close match. #2 is a little more fluted on the bottom.
sold and paid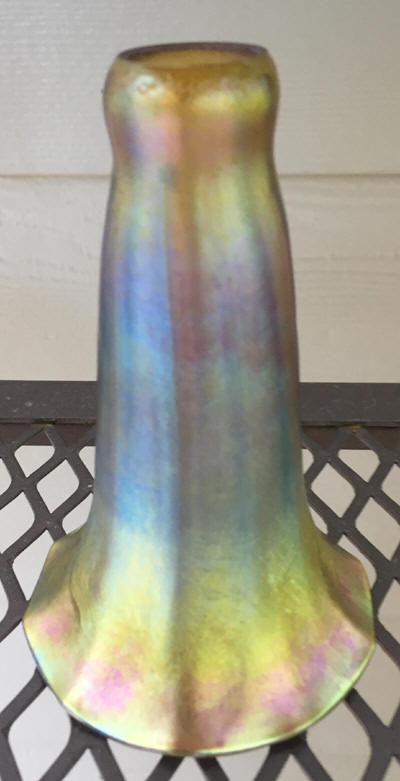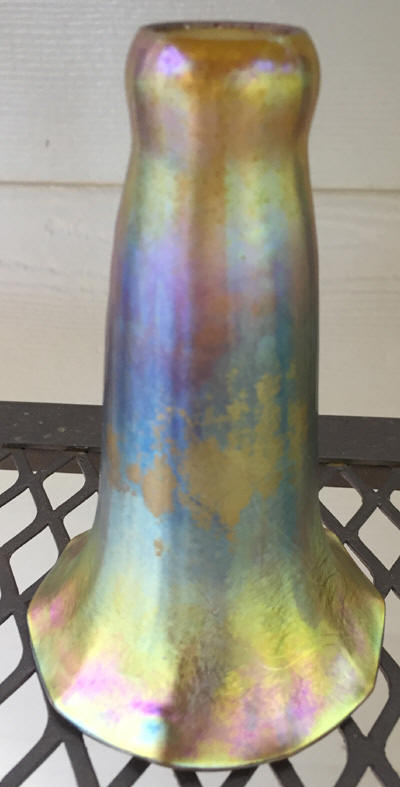 Shade #3 is 4 3/4" tall. Showing both sides. Signed L.C.T. Favrile. Nice blue iridescence.
sold and paid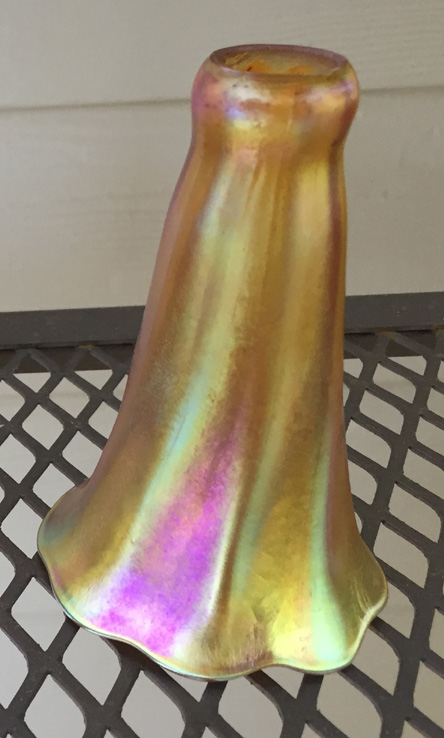 Shade #4 is 4 5/8" tall. Magenta iridescence comes and goes as you rotate the shade in reflected light. Signed L.C.T.
SOLD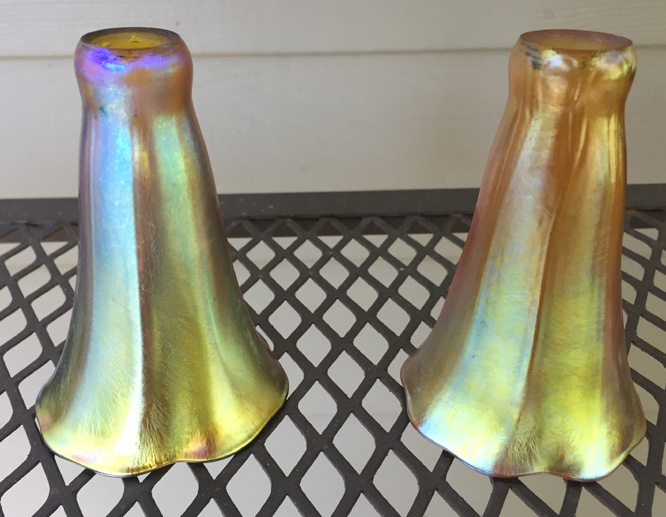 Shades #5 and #6 are 4 1/4" tall and a very close match. #5 and #6 are both signed L.C.T.
SOLD
~~~~~~~~~~~~~~~~~~~~~~~~~~~~~~~~~~~~~~~~~~~~~~~~~~~~~~~~~~~~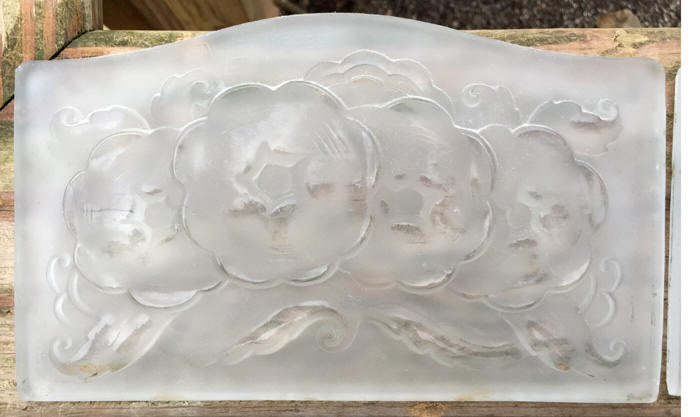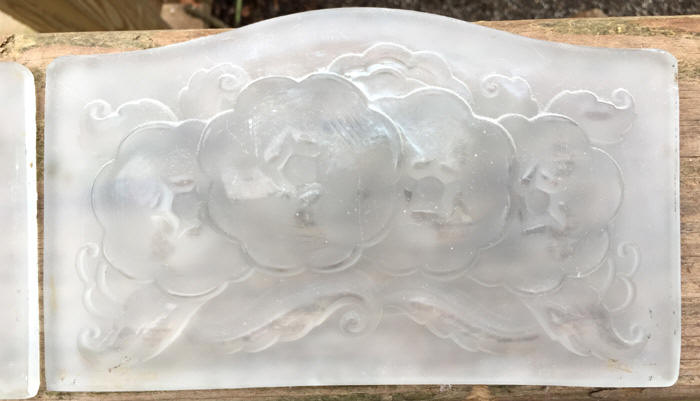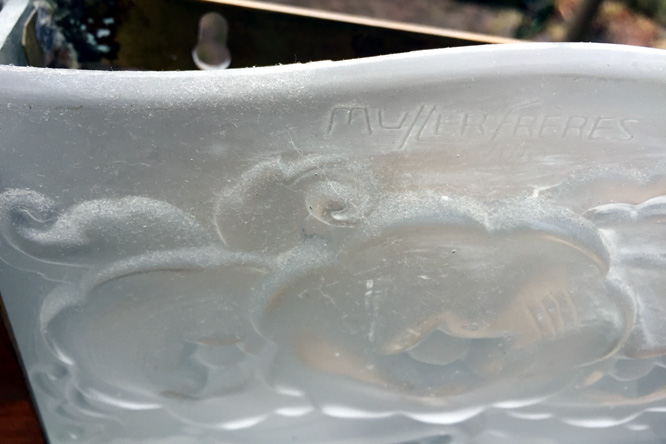 Muller Freres wall sconces, circa 1920. Heavy solid brass mounts with frosted glass sides and bottoms, original sockets and wiring. Identical matching pair of poppy flower front glasses that are signed in the glass, as shown. Excellent condition. No cracks or repairs. One tiny flake on the back side of one top inside glass--unseen. The glass has identical color, reflective properties and opacity. The unlit pictures show some shadowing that is misleading. This is a matching pair. Brass is unpolished. 9" wide, 2 3/4" deep, 5 1/2" tall. $850 for the pair.
3-LIGHT LILY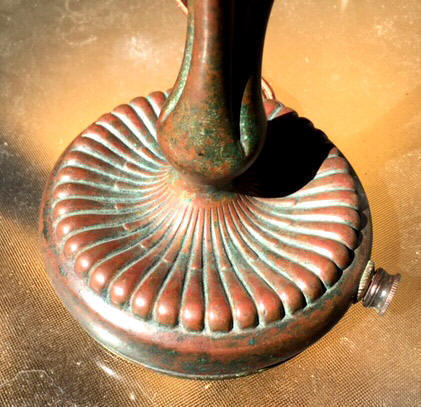 ~~~~~~~~~~~~~~~~~~~~~~~~~~~~
BACK TO THE TIFFANY LAMPS PAGE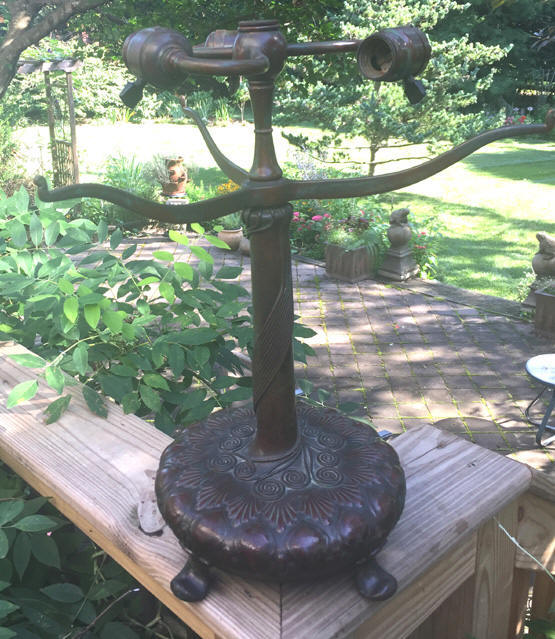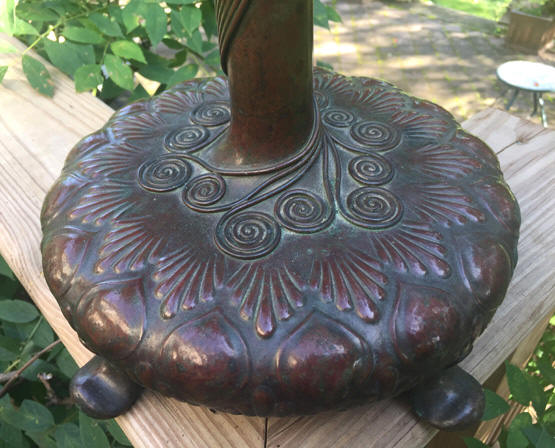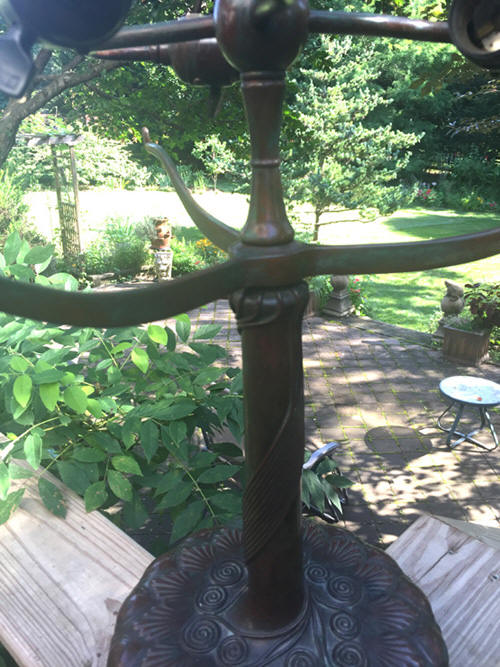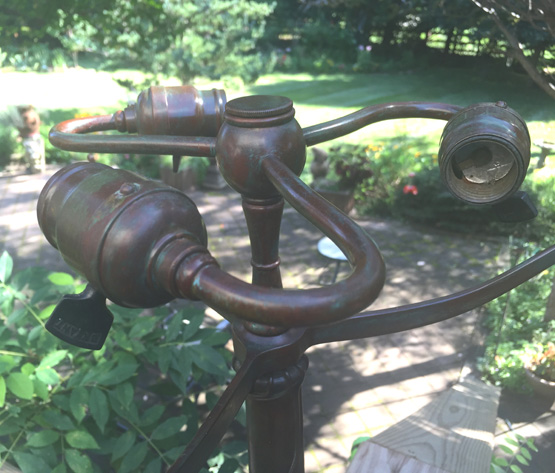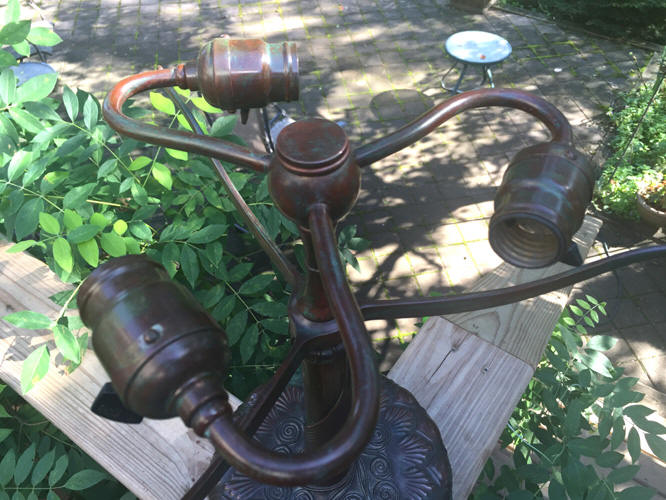 Tiffany Elaborate library base for 16" shade. original sockets. proper stamping with early 4 digit number. Later standardized catalog # is 360. SOLD